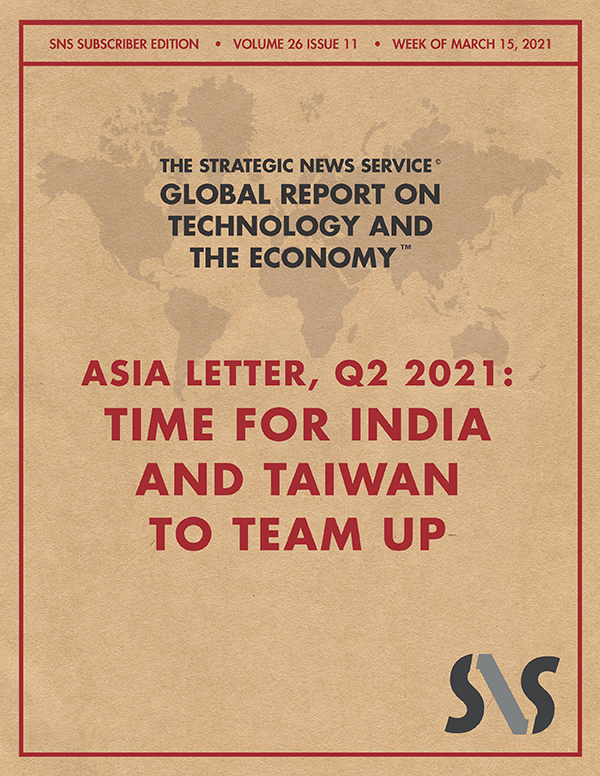 Strategic News Service, the first paid subscription newsletter on the internet, was started 25 years ago.


March FiReSide Registration Is Open | Free To SNS Members

*Click Here to view the member code

In This Issue
Vol. 26 Issue 11

TIME FOR INDIA AND TAIWAN TO TEAM UP

SNS: Asia Letter, Q2 2021

TIME FOR INDIA AND TAIWAN TO TEAM UP

By Scott Foster

Quotes

"The message to China ought to be, 'Hey, you can assume that the United States won't respond' - but that was the assumption made in June of 1950 as well, when North Korea invaded South Korea."

- US Army Lt. Gen. H.R. McMaster (Ret.), ("McMaster: U.S. is 'In Catch-Up Mode' to China in Indo-Pacific," USNI [US Naval Institute] News, 3/3/21)

"We have to play ball with the Chinese. If you are not at the table, you are on the menu."

- Joerg Wuttke, head of the EU Chamber of Commerce in China, mixing metaphors ("Deutschland AG continues to pour billions into China," The Economist, 1/9-15/21)

"We invited everybody and no-one came, except the Chinese. So they're welcome and they are easy to deal with."

- Luhut Binsar Panjaitan, Indonesian Minister for Maritime Affairs
and Investment, on Indonesia's metals processing industry
("China building Indonesia into an EV powerhouse," Asia Times, 2/4/21)

"From now on, you want the Visiting Forces Agreement done? You have to pay. It's a shared responsibility, but your share of responsibility does not come free."

- Philippine President Rodrigo Duterte getting warmed up
for negotiations with the Biden administration, from
"Duterte wants US to pay much more for troops access"
(Asia Times, 2/16/21)

"Palau's request to the US military remains simple - build joint-use facilities, then come and use them regularly."

- Palau President Tommy Remengesau,
in a letter to then-US Defense Secretary Mark Esper
(The Telegraph, 9/4/20)

...