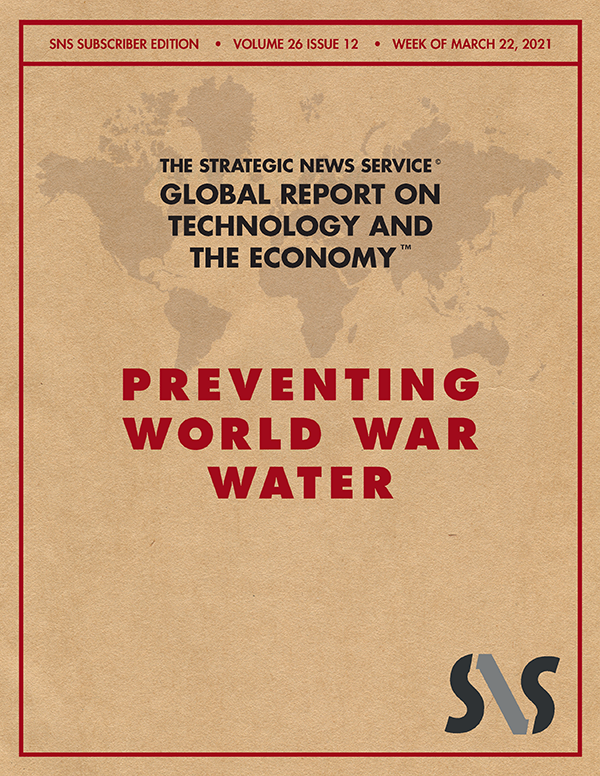 Strategic News Service, the first paid subscription newsletter on the internet, was started 25 years ago.

TOMORROW: FiReSide Virtual Intel: "AI Bias: Weapon or Mistake?" Mark Anderson interviews Bill Janeway on "The Use and Abuse of Machine Learning" & Gary Marcus on "Rebooting AI: Building AI We Can Trust." Glean critical wisdom ahead of the curve, including why ML's deployment still needs well-intentioned humans. Includes closing breakouts and socializing for lingerers. Thursday, 3/25, 2-4pm PT / 5-7pm ET. FREE to SNS members with code fireproof; $49.99 for all others.

In This Issue
Vol. 26 Issue 12

PREVENTING WORLD WAR WATER

PREVENTING WORLD WAR WATER

Turns out, water really is everything.

By Evan Anderson

Quotes

"We forget that the water cycle and the life cycle are one."

- Jacques Cousteau

"Thousands have lived without love, not one without water."

- W.H. Auden (First Things First, 1957)

"Long ago Mars was an oasis of running water. Today the Martian surface is a sterile, barren desert. Here on Earth, who knows what climactic knobs we unwittingly turn, which might one day render Earth as dry and lifeless as Mars."

- Neil DeGrasse Tyson,
(From the cover of Old Poison, by Joan Francis)

"The wars of this century have been on oil, and the wars of the next century will be on water... unless we change the way we manage water."

- Ismail Serageldin, Former Vice President, World Bank
(Speech in Stockholm, 1995)

...