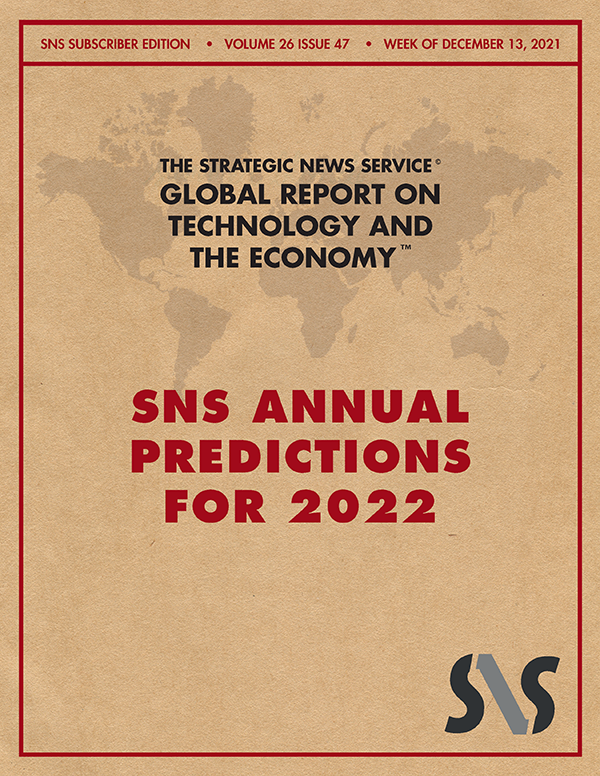 In This Issue
Vol. 26 Issue 47

SNS ANNUAL PREDICTIONS FOR 2022

SNS ANNUAL PREDICTIONS FOR 2022

By Mark Anderson

As members are aware, we recently released our predictions for 2022 at our virtual annual Predictions event; you can view that recorded session here, as a benefit of membership.

Because we're sharing the complete recorded session - together with discussions and Q&A - I have refrained from sending out a transcript or converting all of my thoughts on the economic, technological, and country landscapes upon which these Top Ten Predictions are based.

Rather, I've outlined a greater number of predictions in all of these areas, in the hopes that they are both clear and more numerous - and therefore, of greater use to our members.

As in 2020's Predictions recap, the idea here is to move from a detail-driven, very long conversation to getting the main points across and allowing enough intellectual breathing room for members to stop often, digest, make inner comments and arguments, compare with their own ideas of what's coming, and come to useful conclusions.

Here are the landscapes, followed by the Top Ten Predictions for the year ahead.

Theme for 2022: Righting the Ship

Sailing to Byzantium

"Once out of nature I shall never take
My bodily form from any natural thing,
But such a form as Grecian goldsmiths make
Of hammered gold and gold enamelling
To keep a drowsy Emperor awake;
Or set upon a golden bough to sing
To lords and ladies of Byzantium
Of what is past, or passing, or to come."

- W.B. Yeats, 1933

Today, we have to understand and include China's role in almost everything we make and do.

...