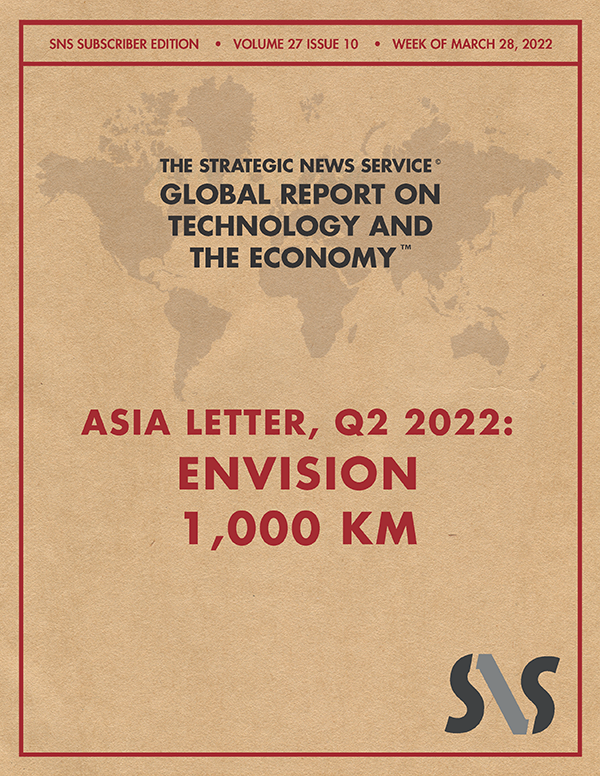 In This Issue
Vol. 27 Issue 10

ENVISION 1,000 KM

SNS: Asia Letter: Q2 2022

ENVISION 1,000 km

By Scott Foster

In 2024, Chinese battery maker Envision AESC (Automotive Energy Supply Corp.) plans to begin mass production of new batteries that should enable an electric vehicle (EV) to travel 1,000 km or more after a single charging of less than 20 minutes. That would more than double the range of the Nissan Leaf, which is now about 450 km.

When Envision bought 80% of AESC from Nissan in 2019, it took control of factories in Japan, the US, and the UK in the process. Prior to and in preparation for this transaction, Japanese electronics company NEC transferred 100% of the shares of its EV battery maker, NEC Energy Devices, to Nissan. Since then, Envision AESC has built a factory and R&D center in China, as well.

The new batteries will at first be made at a new factory in Japan. But Envision also plans to build new factories in China, the US, and Europe, expanding its production capacity by about 10 times, to the equivalent of 1.1 million vehicles per year. Last summer, it announced plans to build a battery factory in France to supply Renault, which has an alliance with Nissan. Envision also hopes to add other new customers in Europe, Japan, and China.

Envision is also active in wind, solar, and hydrogen energy. It owns EnOS, an "intelligent AIoT operating system" that manages some 120GW of energy assets around the world, and has more than 380 customers and partners, including the Port of Singapore, Deutsche Telecom, and Microsoft.

...