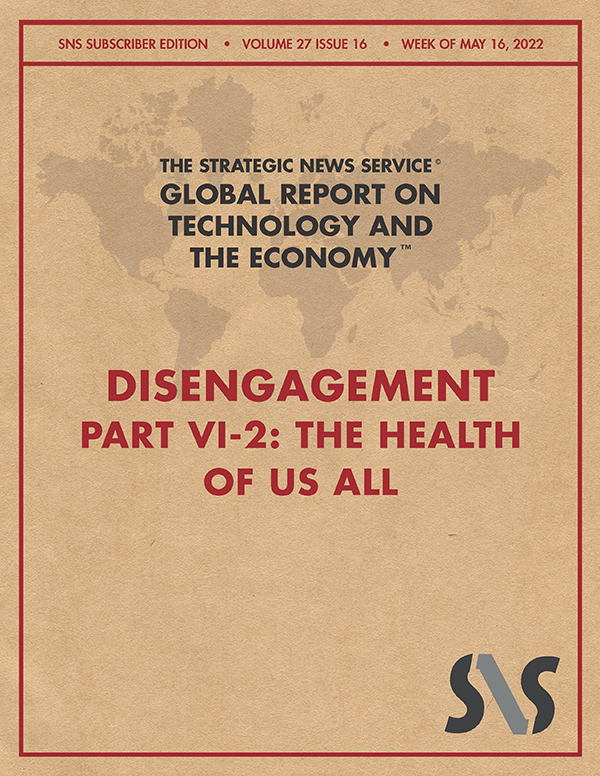 In This Issue
Vol. 27 Issue 16

DISENGAGEMENT: PART VI-2

DISENGAGEMENT: PART VI-2

The Health of Us All

By Evan Anderson

Click to review SNS: Disengagement: An Introduction (9/23/21); Part I: The Economics of a Secure Future (10/22/21); Part II: The Cost of Trade (11/10/21); Part III: Tech at War (1/19/22); Part IV: Conflicts of Interest, Conflicts of Finance (2/7/22); Part V: Supply Chains and Security (4/6/22); and Part VI-1: The Health of Us All (5/11/22).

"... [T]he new lab has a serious shortage of appropriately trained technicians and investigators needed to safely operate this high-containment laboratory." - From a State Department cable warning about Wuhan Institute of Virology standards (1/19/18)

"SHANGHAI (Reuters) - Chinese President Xi Jinping said levels of happiness among all ethnic groups in the western region of Xinjiang are rising and that China plans to keep teaching its residents a 'correct' outlook on China, Xinhua news agency reported late on Saturday." - Reuters (9/27/20)

"I was terrified when I found out that I would be sent to a facility, because my neighbour, who was in her 20s, was at a camp, and she and I had a drink and she shared her secrets. She said she was raped and forced to have an abortion.... She told me that she said several Han people raped her, that 'two held my hands, two held my legs and one raped me.'" -Xinjiang concentration camp survivor

Our health is all we have.

In the previous issue of this series, we covered the ways in which the Chinese Communist Party (CCP) and the government of the People's Republic of China (PRC) are the source of the largest threats posed to the environment by humanity. But the environment is only one realm in which disengagement with those political bodies may help to protect human wellbeing. The food we eat, our ability to protect ourselves from disease, and our human rights are also under direct threat.

The CCP, and the PRC government as a whole, are a clear and present danger in each of these categories.

...