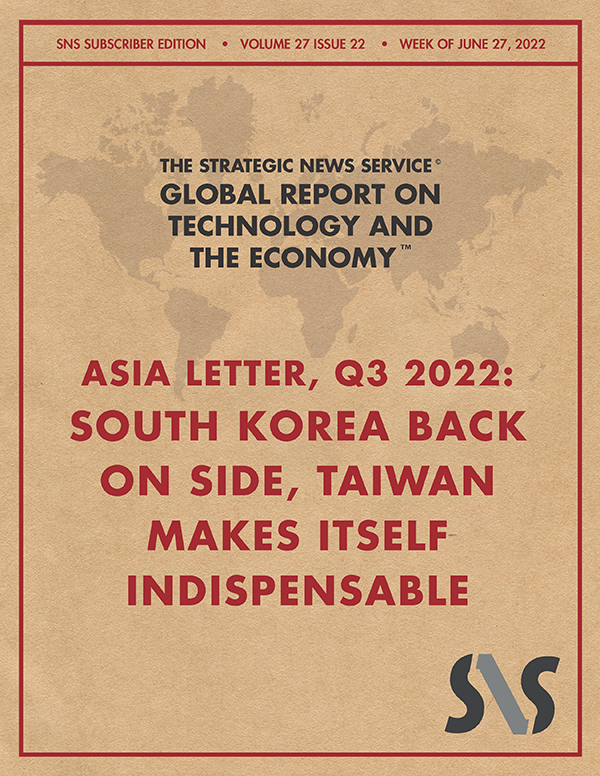 In This Issue
Vol. 27 Issue 22

SOUTH KOREA BACK ON SIDE, TAIWAN MAKES ITSELF INDISPENSABLE

SNS: Asia Letter: Q3 2022

SOUTH KOREA BACK ON SIDE, TAIWAN MAKES ITSELF INDISPENSABLE

By Scott Foster

North Korea Fires Missiles, May Resume Nuclear Tests

"Any nuclear tests would be in complete violation of U.N. Security Council resolutions. There would be a swift and forceful response to such a test. The entire world will respond in a strong and clear manner. We are prepared."

- US Deputy Secretary of State Wendy Sherman, speaking in Seoul

(Yonhap News Agency, 6/7/22)

Prepared to do what?

As noted by British journalist and war historian Andrew Salmon in his article "Hollow US threat to North Korean nuke test" (Asia Times, 6/8/22),

North Korea overturned its self-applied 2018 moratorium on test firings of intercontinental ballistic missiles in May. Now, intelligence analyses and statements by the International Atomic Energy Agency (IAEA) suggest that Pyongyang is on the verge of next nullifying its nuclear test moratorium.

But it's not clear that American tough talk would be backed up with tough action if North Korea goes through with a new nuclear test.

In fact, it has been clear for decades that the US - for all its military, economic, diplomatic and political heft - lacks workable leverage over the isolated, heavily militarized, nuclear-armed and fiercely independent state.

North Korea launched eight ballistic missiles into the Sea of Japan on June 5. The following day, South Korea and the US test-fired eight missiles and sent 20 jet fighters over the Yellow Sea, which is located between the Korean Peninsula and China.

But that's not all there is to it.

In another article by Salmon, entitled "Anti-US axis creeping into view in Asia" (Asia Times, May 25), he points to evidence that North Korea's missile tests may now be coordinated with joint air-force exercises by China and Russia.

...