Global Report on
Technology and the Economy
19 Years Providing Weekly Foresight
The most accurate predictive report on technology and the global economy,
read by leaders in industry, finance, and government worldwide.
| | | |
| --- | --- | --- |
| SNS Subscriber Edition | Volume 18, Issue 22 | Week of June 8, 2015 |
[Please open the attached .pdf for best viewing.]
Recommended Reading:

Learning Reimagined, by Graham Brown-Martin (Bloomsbury Academic, January 2015)
This is a beautifully produced and deeply researched book on country-by-country efforts to integrate technology into the learning experience. It is fun to read and exciting to see in print, and will provide inspiration to everyone involved in this educational revolution. Written by a past member of SNS Project Inkwell, I recommend it to all members who care about the future of education. mra.
____
Twenty years ago this week, I emailed the first issue of the Strategic News Service to a long list of friends and colleagues. I am embarrassed to admit that our advertising and marketing approach has not changed much since then.
The premise was simple: if we could provide original, accurate, large-scale insights in the world of technology to those who cared, they would probably pay for it. Back in 1995, almost no one was paying for anything on the Internet, so that made the proposition --- challenging.
The first issue focused on IBM's hostile takeover offer for Lotus. All of the major business press, including the Wall Street Journal, had predicted the deal would fail, since the company assets "walked out the door every night." Based on our assessment of CEO Jim Manzi's motivating principles, we predicted the deal would go through, and it did. Those who bet on our side made a large amount of money. SNS: 1; World Press: 0. This latter trend would continue.
In this week's discussion, we'll look at what SNS is today, make some new announcements, open up new web offerings, and help our members find a collection of values we've provided, at least some of which may be new to you. And this, at the start, brings us to the heart of what SNS is, how we seem to differ from others, and what we are still trying to become. By searching for the deepest patterns in how technology drives the global economy, we end by serving members with long-lasting new understandings of our world.
As my friend and longtime member Jim Louderback suggested during a brainstorming session last week, "SNS owns the big ideas." At the least, we play our part.
Let's follow this track, and briefly highlight some of these big ideas.
(More details are available to Premium-level members via archival search on our website, or through our new archival site, detailed later in this issue.)
The first big idea behind SNS is the Power of Pattern Recognition: it is how we do our work and what has led to our cumulative 94.5% predictive accuracy rate since 1995. We've developed a deep (and proven) understanding of this science and laid it out for members as we've progressed. Those following this thread likely have a world-class edge in their abilities to see what is true both today and tomorrow.
This leads to a separate benefit we work to share with members: not just providing "the fish," but also learning together how to fish. As a group, longtime SNS members are probably the most adept at both seeing the world clearly in the present and at foreseeing outcomes. It's difficult to describe or "sell" this in words, but it is exactly what we are best at doing, and what dedicated members learn as we go.
My guess is that this "unnamed" benefit is, as Visa says, priceless.
Where has its practice taken us? Well, here, for example
Software
The Internet Assistant
Before there was a Siri, we laid out detailed descriptions of the IA, and its central importance as a software category, starting in 1997 and continuing today. According to its then-CEO Mike McCue, that work inspired TellMe Networks (now part of Microsoft), and we have worked with Nuance and others in this category to accelerate its development.
There is every indication, with a new wave of offerings this year from Viv Labs, Microsoft (Cortana in Windows 10), the new Siri in Apple iOS 9, and the stealth-launching (Sound) Hound, that this category is nearing the importance and dominance we suggested in our original descriptions. The cross-platform move for Cortana by Microsoft and for Google Now suggests that the CEOs recognize the IA as not just a killer app, but also as the killer category that will dominate all search and services.
Earth II
SNS spent years evangelizing the concept design of the ultimate browser, which we called Earth II, demonstrating the need and importance of creating a real-time planetary background overlaid with millions of selectable data layers. For several years, we sponsored the www.earth.to website for this purpose.
This work led directly to the Microsoft TerraServer project, then to Google Earth, and then to NASA's WorldWind open-source work, which has now seeded a large number of related platforms and applications. First among these is found at Collaborate.org, which is built on WorldWind, features 2.2 million data layers supplied by NGOs and universities, and supports hundreds of sensor types. SNS member Kevin Montgomery is CEO, and SNS currently runs two portals on the site, at www.collaborate.org.
SNS member Patrick Hogan of NASA, who has been kind enough to honor the lineage from earth.to, has taken WorldWind worldwide, recruiting applications teams from governments and universities. A particular success has been the Europa Challenge, now in its third year; you can read more about it here:
http://eurochallenge.como.polimi.it/projects2015
(Reference: "SNS: The Year of the Global Computer," January 20, 1998.)
Hardware
The CarryAlong Computer
In 1997, we also described a new device category we called the CarryAlong, with strict dimensions and ergonomic advantages, predicting that it would become the best-selling, and largest, computer type of all time. Today it's history, led by the iPad, even as the CA further segments along the lines of age and consumer vs. producer, with phablets on one end and CA twofers like the Intel 2 in 1 models and the Microsoft Surface Pro series on the other.
(Reference: "SNS: The Next Minitel," January 20, 2000.)
Project Inkwell and the "Spark" Computer

Seven years' work with our global SNS Project Inkwell Consortium led to the award-winning, SNS / IDEO-designed educational concept computer called "Spark," which looks remarkably like an Apple Mini Pad with a separable keyboard 10 years before its creation.
Here is an Inkwell slide show of Consortium members from the IDEO site
www.flickr.com/photos/projectinkwell/show/
And here is the Spark, winner of the 2007 Index Award:
Best practices for increasing success in technology adoption for K-12 schools were captured in the Inkwell AORTA Manifesto, which was then adopted by the White House in its ConnectED vision for K-12 schools.
(Reference: "SNS: Microsoft Unleashed: Products and Future Markets," March 4, 1998.)
PRP Chips
Pattern Recognition Processors, laid out two years ago in SNS, are just now showing up in their first design iterations. With DARPA and IBM now declared via the amazing TrueNorth Chip, we expect to see new additions from the top designers at Qualcomm, Intel, and elsewhere. Members read about the most radical change in chip design since Von Neumann, in SNS.
(Reference: "SNS: The Most Important Chip Not Yet Invented," February 14, 2013.)
Spherical Memory
It hasn't been built yet, but the US Navy and several tech firms have given it a start. We published the first design more than 10 years ago. When it's made, the medium will look like a crystalline golf ball and carry at least 5 petabytes of storage.
(Reference: "SNS: Wireless Portals," May 25, 1999.)
The Pattern-Based Computer
We're going to ask our CTO Design Challenge participants to create the first-ever PBC, and to report out their final designs onstage, during FiRe 2015. So, there isn't one of these yet, but there will be in October.
Hardware and Software
Wall Computing
We are really excited about the first SNS Wall Computer, recently announced by Microsoft. This is a great integration of hardware and software. Go to "Upgrades" to see the whole story.
Since the old theories uniformly failed to pass the most basic tests of a good theory (being testable, making accurate predictions), we had to find new ones. They include:
Hyperstructural Economics
Back in the late 1990s, we realized that we could predict corporate and technology outcomes through the linkage of components in major devices, such as personal computers (and today, smartphones). In short, it turns out that the structure of the economy in the tech industry often mirrors the structure of the BOM (bill of materials) in platform devices.
(Reference: "SNS: Hyperstructural Economics," November 12, 2003.)
Flow Economics
While virtually all economists have been using balance sheets to figure out the world, we decided that they were almost completely fraudulent, and therefore essentially useless. Instead, we started looking at flows, since flows cannot be faked. The result: a new theory for understanding global economics, based entirely on flows rather than on financial reports.
The result: SNS is the only publication in the world to have correctly (and publicly) predicted both the Global Financial Collapse and the Oil Price Collapse, which are the two most important economic events of our lifetime.
(Reference: "SNS: Rewriting Economics: It's All in the Flow," November 5, 2011.)
Currency Wars
After predicting the yen / dollar ratio accurately for over a decade thanks entirely to currency manipulations by the Bank of Japan we saw this pattern move through South Korea and over to China. With China's scale and much more aggressive interventions in the currency markets, we became the first to apply this term to modern national fiscal policy. Today, everyone in the world (except the US, having just backed out) practices this dangerous game, and SNS members are fully aware of its evolution and risks.
(Reference: "SNS: Ten Predictions for 2004," February 3, 2003.)
InfoMercantilism
SNS was the first to recognize this national business model, and to name it. Today the term is catching on, even as China turns the model into a global trade-based weapon, manufacturing trade deficits for each of its chosen trading partners in turn except Japan, the model's inventor. Our new version name for this category, intended for easy use: "InfoMerc."
Members following our learning curve on this issue now have a deep understanding of exactly what is driving the leaders in Asian economic growth: Japan, South Korea, (Taiwan, to a lesser degree) and China.
(Reference: "SNS: The Next Assistant", August 22, 2013.)
Crown Jewels Intellectual Property Theft
SNS was the first to recognize the role of this practice in driving InfoMerc nations. This moved CJIP theft from a nuisance-like hazard to a national security threat. As this became better understood, we created the INVNT/IP Global Consortium and its Global Network, with the sole purpose of reducing CJIP theft. Members knew about this from the beginning, but the rest of the world had to wait for the time it took us to bring it to the attention of the global media (where it broke, among other places, on Bloomberg TV and in Bloomberg Businessweek), and in briefing global leaders, including the White House, CIA, NSA, State Department, Commerce Department, USTR, FBI, GCHQ, MI5, MI6, Cabinet Minister's Office, House of Lords, Australian PM's office, and others.
For more information, see "INVNT/IP" below.
(Reference: "SNS: How IP Drives the Global Economy," January 17, 2012.)
Breaking Scientific Boundaries
Genetics
Equilibrium Genetics
This theory, yet to be conclusively proven (but with an increasing amount of evidence now being published regularly), proposes an information equilibrium between DNA (and RNA) and the outside world, in which cross-signaling can lead to long-term changes in the structure of nucleic acids. SNS member Craig Venter, when briefed, has acknowledged its potential truth.
(References: "SNS: The Role of IP in the World," April 23, 2008; and for predecessor theory Multiple Input Genetics, "SNS: Making Waves," October 4, 2007.)
Physics
Resonance Theory
This theory, created in 1979-1980 and later published in SNS, proposes that all physical laws are derived from the properties of otherwise-empty space. It provides the "missing link" between String Theory, which it supports, and foundational physics, by describing the "stuff" that is vibrating. First submitted for publication to Physical Review (and rejected) in 1980, before String Theory existed, today it offers a path forward. David Bohm liked it well enough to ask for more, before his death.
(References: "SNS: The Real World," March 10, 1998 [earliest mention] and, for a complete description, "SNS: Resonance Theory," July 28, 2011.)
Medicine
Nutritional Microanalysis
This new field of medicine, created in SNS, is rapidly gaining adherents from experts in adjacent areas of practice. It is based on the need to understand all human inputs on a biochemical basis, in order to connect their intake with health and disease knowledge bases. Leroy Hood, founder and president of the Institute for Systems Biology (and now a member of our Nutritional Microanalysis advisory board) has said that this work "will revolutionize medicine." He should know.
(Reference: "SNS: The Trends Driving FiRe X: Part I," May 3, 2012.)
If successfully applying Pattern Recognition science to a diverse range of fields, and achieving outsized rewards, is the intellectual history of SNS, there is a different story we've created over the last 20 years based on how we've learned to share these discoveries.
And while we continue to work on improving our core publication, we've added additional branches to our efforts; all have their own audiences and products.
Future in Review: The FiRe Conference
Members are well aware of our flagship conference the one the Economist calls "the best technology conference in the world" FiRe, or Future in Review, now in its 13th year, scheduled for this October at the Stein Eriksen Lodge in Park City, Utah. We'll send out a special issue describing FiRe 2015, but I'll mention that the theme for this year is "The Power of Patterns." FiRe opens with a description by the builder's of SNS member Elon Musk's Hyperloop and goes straight into imaging biological patterns, neuromorphic chip design, a new biology-based programming language, and designing the first Pattern-Based Computer.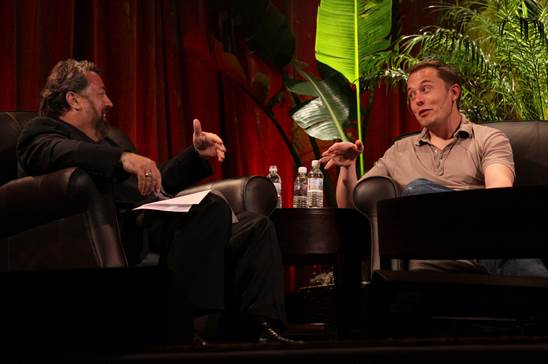 FiRe 2009: Mark Anderson (L) with guest Elon Musk (Photo: Tim Tadder)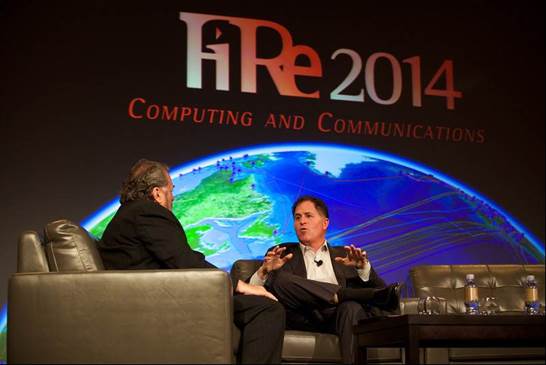 FiRe 2014: Mark with guest Michael Dell (Photo: Dan Lamont)
It's going to be great, and members can see a preview of it here:
We work hard to make sure there is nothing even close to FiRe in the rest of the world.
The Annual SNS Predictions Dinner in New York

Now in our ninth year, we look forward again to holding a remarkable evening of great food and drink, lots of networking time, a guest interview subject, and the release of our predictions for the coming year. Historically held in the Waldorf Astoria, this has been a recurring high point in December for new and returning core members.
www.stratnews.com/events/predictions-dinner/
SNS Predictions West
This year, we added a new program, with Oracle's assistance. CEO Mark Hurd was kind enough to join me at the Golden Gate Yacht Club in February for a really fun interview, update, and discussion with SF and Valley executives. This new event is here to stay on the SNS calendar.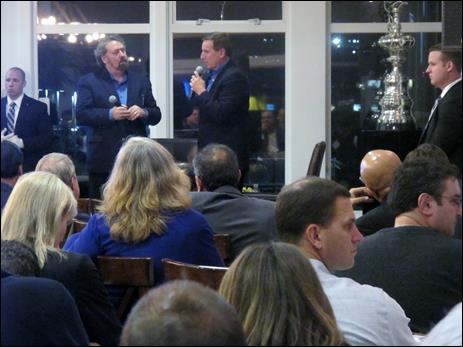 Mark Anderson, Mark Hurd (center), and the America's Cup
The SNS FiRe / PCI Speaker Series
This four-part winter speakers' series is run in partnership with the new Park City Institute. Managed by Sharon Anderson Morris and hosted by PCI Executive Director Teri Orr, it features past and current FiRe speakers in a perfect setting at Eccles Theater, and has seen sellouts every night. We look forward to our third year of this great new way to help PCI as it grows, and to share great people and their ideas.
All of these evenings are filmed, and later offered to audiences of the larger SNS membership, and then to the public.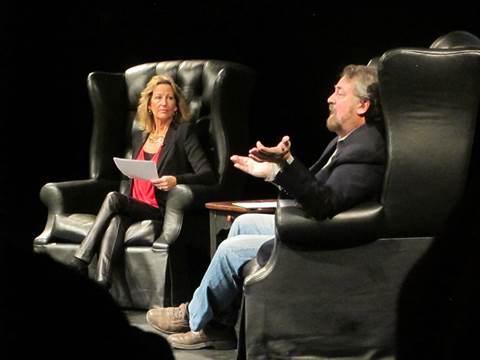 2013: Sharon Anderson Morris interviews Mark for the first event in the PCI series
SNS FiReFilms

FiReFilms was begun as an offshoot of FiRe, as we realized that our efforts to change the world via political means were not having the impact we wanted. By finding and promoting films that focus on the use of technology to improve the human condition, Sharon Anderson Morris has quickly turned this effort from a cool idea into a discrete global operation that comprises screening clubs, memberships, and online (and sometimes in-person) interactions with directors, actors, and producers.
In alliance now with the Sundance and Carmel international film festivals, FiReFilms continues to grow in reach and ambition and shows every indication that it will indeed provide the mindshare and excitement that our speakers, and their ideas, deserve.
In the next month, members will learn of a new dimension to this great project which will further accelerate its growth and reach, and thereby our ability to help everyone involved.
www.futureinreview.com/firefilms/
The SNS Global Report on Technology and the Global Economy
Bill Gates calls it his "favorite read." You're reading it now, so we hope you do, too.
That first June 1995 newsletter was three paragraphs long. It had no header, no graphics, no copyright notice. We kept it in ASCII print for years, after a visit to eastern Germany revealed subscribers who were still stuck with PC AT computers and no way to render fancy graphics. We decided that we wanted our ideas to be the focus, rather than the pretty stuff around them, in honor of our global audience.
Next week, members will see our latest (but not the last) addition to the SNS look and feel, as we work to focus the inside content and bring a new aesthetic to the Global Report, now averaging 35-40 pages each week.
Best-selling author Brent Schlender, then a Fortune editor, once said that SNS was his magazine's prime source for story material. We're still working hard to stay ahead of the pack.
SNS Interactive News (iNews)

Thanks to staff member Scott Schramke, this digest of SNS members and FiRe speakers making the news goes out at least twice a week to about 100k technology leaders around the world. We've tagged it "News About Leaders, For Leaders," and we actually patented the process behind it, which allows all recipients to see the photo, bio, and related stories on any given subject, and SNS Premium members to communicate directly with these leaders.
We think it's another way of not only building community coherence, but also for getting good things done.
The INVNT/IP Pulse

Also thanks to Scott, and INVNT/IP editor Vanda Randall, this three-part weekly publication focuses on state-sponsored theft of crown jewel intellectual property. Not only is there nothing like it, but four years of work has also led to the database behind it, the most extensive non-classified listing of such thefts, by country and year. More on this below ---
Pattern Publishing
We are proud to announce a new medium in our publishing world: e-books. Yeah, it took a while. But the best things do ---
Which is why we're even prouder to announce the first e-book, coming out during this coming quarter. Written by longtime SNS Asia Letter Editor Scott Foster, "Stealth Japan: The Dramatic and Quiet - Success of the World's First InfoMerc Economy" is the book the world needs to read, right now, as Wall Street , the City of London, and every central banker are confused about Japan's business model and success.
Stealth Japan explains Japan's triumph in achieving its own and not the West's economic goals, with greater result than anyone has imagined.
With three more books in the pipeline, and a few more starting to show up on deck, we look forward to publishing books that are true and revelational, finding the same large-scale differences we seek in creating the Global Report, but in much deeper dives.
We'll be making a Special Purchase Offer to SNS members for Stealth Japan shortly, through our own store, and it will also be available through Amazon and other online bookstores.
In addition to SNS Project Inkwell and Nutritional Microanalysis, we have created a number of initiatives that are ongoing, and which we've chosen for their importance.
Among these are:
INVNT/IP

Standing for "Inventing Nations vs. Nation-sponsored Theft of Intellectual Property," this organization is a global consortium composed of technology corporations, including Google, and Cabinet-level policymakers in the US, the UK, and Australia. (We are working to add the EU next.)
The sole purpose of INVNT/IP is to reduce state-sponsored theft of crown jewel IP. Having discovered, described, and named the national business models of Japan, South Korea, and now China, we recognized that, at China's scale, serious and lasting damage would be done to the global economy if the country's current practices were left unchallenged and unchanged.
While we don't advertise our other members, or our tactics, we encourage companies to join in this intense effort on the part of inventors, innovation-based companies, and inventing nations. Those interested should contact mark@stratnews.com.
We have just concluded a research project which will, in a truncated version, soon be available to SNS members.
Global Rescue System (GRS)
In response to the work and success of Julia Ormond's FiRe interview on the work of her ASSET organization, we stepped forward with a proposal for a Global Rescue System for the victims of human trafficking. With the active support and participation of Andrew Wallis, CEO and founder of Unseen, and Hugh Bradlow, CTO and Head of Innovation of Telstra, this long-term project is headed for a UK pilot test of the technology behind a universal smartphone system any victim could use to safely send for help.
Summary: By bringing Pattern Recognition techniques to a wide range of fields, all under the theme of how technology drives the global economy, we have been able to make dramatic progress in original discoveries and predictive accuracy. The support of our membership has not only been critical in enabling this work, but has also continually expanded the number of leaders who have benefited both from this information.
We know that it remains for us to do a better job of describing and sharing the underlying processes that have moved this work from art to science, and we think many members will be interested in improving their own pattern-recognition radar using these lessons and tools.
Also new to members this week:
The SNS Store and Archive
Welcome to the new SNS Store! After months of work by Scott Schramke and Sally Anderson, we have a new way for anyone to find and purchase single or bundled issues, with more offerings to come. Want to read the first description of the SNS Spherical Memory device, based on crystalline holographic storage, written years ago and just now becoming technically possible? Or see Larry Smarr's very first publication which was published here in SNS leading to the field now called "The Quantified Self"? Or dive into the detailed first description of the new Pattern Recognition Processor chips, almost certain to lead the way into nonVon Neumann computers?
Every SNS issue, back (currently) to 2008, is listed here by topic, focus channel, date, and even popularity, and all are searchable by any subject:
This part of our site is open to the public, so while members are benefiting from weekly issues, you can now send colleagues to our site for everything from a back issue to a series on IP theft, an SNS subscription, or soon an e-book on Japan.
The SNS Executive Club
Oops, we aren't ready to announce this one yet. Next month, for sure. But, since the patterns behind CEO personalities are the top drivers of corporate performance, we are betting you would like to hear our inside views of the world's technology leaders, no?
If there is a truly amazing aspect to the SNS Story at 20 years, it is that so much has been accomplished by so few. We are by nature a virtual company, and while the core team is small, the extended group of those who have made all of this happen is large, and global.
Here is a partial list of key players who have helped to create SNS over the last two decades. If we've left you out, please forgive us, because our success is that there are a lot of you:
SNS Staff
Mark Anderson, Founder and CEO, Strategic News Service; and Chair, Future in Review Conference Corp.
Sharon Anderson Morris, Director, SNS Programs and FiRe Events, Strategic News Service; and Managing Director, FiReFilms
Sally Anderson, Editor-in-Chief and Production Manager for Strategic News Service, FiRe Events, and FiReFilms
Evan Anderson, Director of Marketing and Research, Strategic News Service
Berit Anderson, Media Consultant and, as of this month, Co-Founder and CEO of Scout Media, Inc.
Jenny Lee, Director of Social Media, Strategic News Service
David Morris, Business Development, Strategic News Service
Scott Schramke, IT Director, Strategic News Service
Ginger Tolman, Executive Assistant to Sharon Anderson Morris, Programs Director, Strategic News Service
FiRe Advisory Board
Don Budinger, Chair and Founding Director, The Rodel Foundations
Ty Carlson, Senior Manager, Digital Products Group, Amazon
Russell Daggatt, General Partner, Denny Hill Capital
Cynthia Figge, Co-Founder and COO, CSRHUB and EKOS International
Scott Foster, Partner, TAP Japan; and Alliance Partner, Translink
Glen Hiemstra, Founder and CEO, Futurist.com
William H. Janeway, Senior Advisor, Warburg Pincus (New York & Cambridge, UK)
Dan Lynch, Chair, Lynch Enterprises
Nathan McDonald, President, Keiretsu Forum Northwest
Matt McIlwain, Managing Director, Madrona Venture Group
Gregory Ness, VP Marketing, CloudVelox
John Petote, Angel Investor
Michael Pfeffer, President and CEO, Ibis Networks
Gary Roshak, Vice President, Products, Kymeta
Paul Shoemaker, Executive Connector, Social Venture Partners
Rolf Skoglund, Co-Founder, ThinkOut, and Co-Founder and Chair, Startupfactory (Stockholm)
Larry Smarr, Founding Director, Calit2, UC San Diego/UC Irvine and the Qualcomm Institute
Steve Waite, Co-Founder and Co-Executive Director, Graphene Stakeholders Assoc.
Jean Wooldridge, Principal, St. Cloud Communications, Research Affiliate, Fred Hutchinson Cancer Research Center
SNS Ambassadors
Ambassador for Angel Investing John Petote
Ambassador for Asia Research Scott Foster, Partner, TAP Japan; and Alliance Partner, Translink
Ambassador for Cloud Computing Gregory Ness, Vice President of Marketing, CloudVelox
Ambassador for Communications Simon Hackett, Board Member, Australian National Broadband Network Co.; and Past Founder, Internode
Ambassador for Documentary Films Geralyn Dreyfous, Co-Founder/Director-at-Large, Impact Partners; and Founder, Utah Film Center
Ambassador for Economics William H. Janeway, Senior Advisor, Warburg Pincus (New York & Cambridge, UK)
Ambassador for Education David Engle, Director of US Operations, SNS Project Inkwell; and Superintendent, Port Townsend Public School District
Ambassador for Ocean Health Roger Payne, Founder and President, Ocean Alliance (Vermont and New Zealand)
Ambassador for Pure Science Larry Smarr, Founding Director, Calit2, UC San Diego/UC Irvine and the Qualcomm Institute
Ambassador for Science Fiction David Brin, Physicist and Author
Ambassador for Wireless Research Chetan Sharma, President, Chetan Sharma Consulting
Other Awards:
2014 World-Changing Documentary Michael Rossato-Bennett, Director, Alive Inside
2014 "Above and Beyond" Award Hugh Bradlow, CTO and Head of Innovation, Telstra
2014 Pioneer in Global Change Larry Smarr, Founding Director, Calit2, UC San Diego/UC Irvine and the Qualcomm Institute
2014 "Creating New International Innovators" Award Guy Groff (fmr.) Associate VP, Professional Management and Career Development, Thunderbird School of Global Management
_______
2013 Company of the Year Graphene Technologies (CEO, Jon Myers)
2013 CEO of the Year Leroy Hood, President, Institute for Systems Biology
2013 Entrepreneur of the Year Kevin Montgomery, CEO, Collaborate.org
2013 Philanthropist of the Year Paul Shoemaker, Executive Connector, Social Venture Partners
_______
2012 Company of the Year Nuance Communications
2012 CEO of the Year Paul Jacobs, Qualcomm
2012 Entrepreneur of the Year Colin Angle, CEO, iRobot
2012 Philanthropist of the Year Don Budinger, Chairman and Founding Director, The Rodel Foundations
2009 Entrepreneur of the Year Elon Musk, CEO and CTO, SpaceX; CEO and Product Architect, Tesla Motors; and Chair, SolarCity
In retrospect, the idea seems quite simple: find what is true, select the best, and use it to shape a better future.
We certainly work to find these "great ideas," share them, and promote them. Our assumption is that by doing this, in science and technology, in finance and economics, our members will prosper. We are fully aware that we have to prove ourselves, every week, in providing this value. As one of our advisory board members put the distinction between SNS and many other competing firms, on this 20th anniversary:
"You're still here."
For this, we know, we have you, our SNS members, to thank.
Your comments are always welcome.
Sincerely,


Mark R. Anderson
CEO
Strategic News Service LLC Tel.: 360-378-3431
P.O. Box 1969 Fax: 360-378-7041
Friday Harbor, WA 98250 USA Email: mark@stratnews.com
To arrange for a speech or consultation by Mark Anderson on subjects in technology and economics, or to schedule a strategic review of your company, email mark@stratnews.com.
We also welcome your thoughts about topics you would like to suggest for future coverage in the SNS Global Report.
&nb